Short Term Summer Lets Bournemouth
At Lulworth Student Company, we specialise in affordable, high quality student apartments which are available as short term rooms for let in the summer for anyone. This is a great option for those on a summer placement or simply looking for a weekend in a quality central apartment.
When you choose our summer short term rooms for let, you get everything included.

With spacious en-suite rooms, you'll have time to relax on your own, but have the benefit of our communal areas if you wish to mingle with other residents. This is the perfect option for those who may be new to working in Bournemouth and want to make new friends.

We have many options available for booking, from individual studio rooms to entire flats depending on the duration of your stay and size of your party.
Bournemouth Summer Placement Accommodation
If you are working in Bournemouth over the summer on an internship or placement, then our central summer short term rooms for let could be the perfect option for you. With all the facilities and amenities you could possibly need, we offer the most cost-effective way to experience a life of luxury in this seaside town
Facilities at Our Summer Short Term Lets
All of our summer rooms include en-suite rooms, with approximately 6-7 rooms per apartment. We also have studio flats available which include their own small kitchen area. All of the rooms available include:
Wi-Fi
Large double bed
En-suite bathroom
24-hour reception and security
Communal kitchen area with TV
Laundry room
Secure entry
CCTV
All of our short term rooms to let have access to our fantastic range of onsite facilities to ensure your stay is as pleasant as possible with plenty of activities to keep you entertained.
Onsite Gym
If you are a regular gym goer, then you won't need to sign up to a local gym during your stay. All residents at Lulworth will have free access to our onsite gym during their stay. Our gym is fully equipped with a range of high-quality equipment including exercise bikes, treadmills, cable stations and weights.
Onsite Café
Our onsite café, Naked Coffee, is a vibrant eco-friendly coffee shop and serves a variety of food and drink options. Choose from customisable salads to delicious homemade burgers or pay a visit in the morning for a tasty breakfast. Naked Coffee has become a top destination in Bournemouth so be sure not to miss out during your stay.
Outdoor Sports Zone
You can also find an outdoor sports zone located on the grounds of our accommodation. The asphalt court is perfect for a range of recreational sports, such as basketball and football.
Book Your Room for The Summer
At Lulworth Student Company, we pride ourselves on providing top-quality short-term rooms to rent in the summer that are cost-effective and central to Bournemouth town centre. Our facility has excellent security in place to ensure you have a great stay with us.

We tailor all of our summer short term rooms for let to your needs, so to find more on our availability and prices, simply get in touch with us to discuss the details.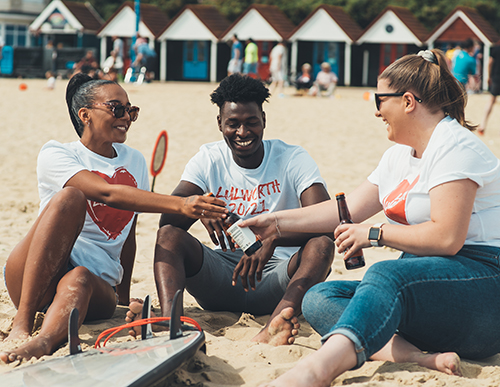 Ready to Find a Room?
At Lulworth student accommodation, we have a variety of room options available so you can find the right solution for you. All of our rooms come with a small double bed, ensuite, free gym membership, 24/7 security, contents insurance and access to our range of onsite facilities.
Sign me up for the Newsletter