FAQS - LULWORTH STUDENT COMPANY
Want to find out more about our exceptional student accommodation? Click on the questions below to find out more. If you can't find what you are looking for, then don't hesitate to get in touch with one of the friendly team at Lulworth Student Company and give us a call on 01202 290244.
How to book a room or a studio?
To book with us just call our office 01202 290244 or go to 'Find A Room' button. If you're having any trouble with the online booking system, then just call our accommodation office and speak to our Team.
Can I smoke in my room?
Lulworth Student accommodation has a strict no smoking policy throughout all buildings. This includes both private and communal areas including the studios, Ensuite rooms and kitchens. Outside the buildings, there are smoking areas with designated ashtrays.
How do I collect my post?
Post can be collected from the Halls reception area (you might be asked to show your student ID)
Do I need to move out over the Christmas and Easter holidays?
No – your room is yours for the duration of your tenancy. You only need to move out of the room at the end of the tenancy agreement.
What is the policy on guests staying in my room?
It is best to speak with the staff at the reception to find out if this is okay. You may have occasional overnight guests. Please do not invite someone to stay for more than 2 consecutive nights. Each guest needs to be signed in at the reception for safety reasons.
What documents do I need to bring when I move in?
Please bring an official form of ID with you e.g. passport and a letter of enrolment from your university.
What are the reception hours of the residence?
Our reception hours are 8.30AM – 4.30PM. You can contact our helpdesk on 01202290244 or just pop into reception. The LSC Team will be happy to help you.
Can I extend my stay at the end of my contract?
We provide short stays, particularly during the summer months, often for students at language or summer schools – please speak to our reception team about this option and they will be able to advise you.
Why are my windows restricted?
Your window has a restricting device that limits how far it opens. It's there for your safety so it's important that you don't disconnect or damage it, or let anyone else do so. If the window fittings do become damaged, you need to tell a member of the accommodation team straight away. We check all the windows and their fittings regularly, to make sure they're all safe and working properly.
What methods can I use to pay the rent?
Alternatively you can pay by card (at the reception or over the phone) or by bank transfer.
Can I terminate my contract before the agreed date?
It is possible to terminate your contract if you find a suitable replacement for your room. Until a replacement has been found you will remain responsible for any payments due under your contract. Termination of the contract may incur extra service charges. Please contact the Lulworth team before you terminate your contract to find out who can be deemed a suitable successor for your room.
What do I do if my internet has gone down?
Your internet is maintained by our external IT Support Service Rejuvenate – if you experience any problems, please contact their helpline on 01202 23 72 73.
Some of my belongings have been stolen, what do I do?
If something has been stolen inside your flat, through break in, please contact the local police on 01202 222 222. You will receive a crime reference number, which is important to recover the loss from your insurance, depending on your insurance cover. Our team will assist you to gather any important evidence.
Can I have a mini-fridge in my room?
We do not allow small appliances. We advise you to speak to our office.
Where can I leave my bike?
We provide an onsite secured bike shelter allocated at the back of the building. The access code is changed regularly and will be given to you before your arrival. Bicycles are left at your own risk. Please be aware that the UHM is not liable for any loss, damage or theft to bicycles in storage. Although the bike shelter is secured, we recommend locking your bike whenever you leave it unattended. You are advised to use a heavy duty cycle lock to secure your bicycle.
Internet access and speed
Throughout the accommodation there are no service tiers, all users have equal access to the WIFI service. The maximum download speed is capped at 50Mbps per WIFI Client. There are no limits on the number of wireless devices that can be registered.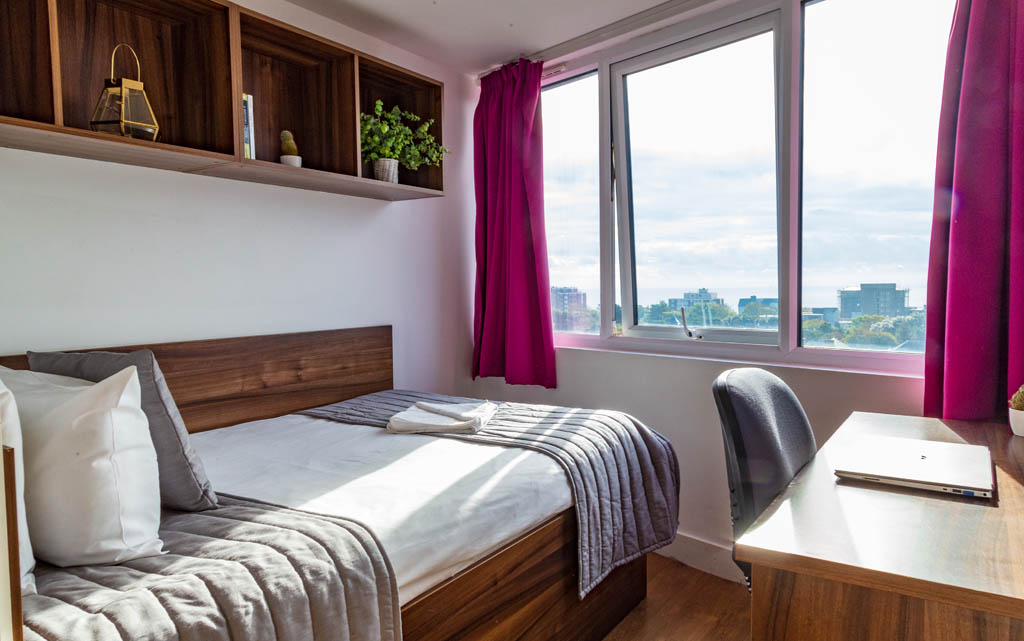 LOOKING FOR A ROOM?
At Lulworth student accommodation, we have a variety of room options available so you can find the right solution for you. All of our rooms come with a small double bed, ensuite, free gym membership, 24/7 security, contents insurance and access to our range of onsite facilities.